I've just released version 1.14 of Nils' K1v – The Kawai K1 emulation VSTi/AU.
Biggest change is that it now also supports Multi presets. I added the 32 factory Multis and all Multis from the ROM cards, resulting in 384 Multi presets in total.
As a sum, Nils' K1v now contains 1352 presets.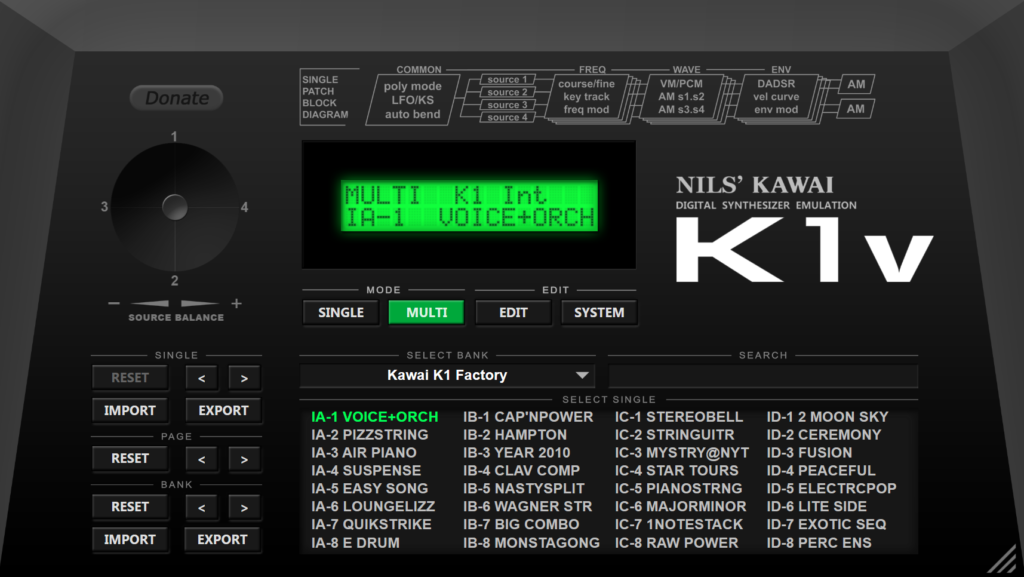 Of course, Multis can be edited, too. To add all of the new features, I modified the UI slightly. The Source Mute buttons have been moved to the Single Edit page, making space for the new Buttons MULTI and SYSTEM.
I've been able to fit four Multi sections on one page, arrow buttons allow to switch between sections 1-4 and 5-8.
Multis work as they do on the Kawai K1 hardware. Up to eight Singles can be combined in various ways to create either rich layered sounds or multiple zones on the keyboard.
The only difference between a K1 and K1v is that in Poly Mode VR (meaning variable), the polyphony is unlimited, while it was still limited to 16 or 8 voices in total on a K1 hardware.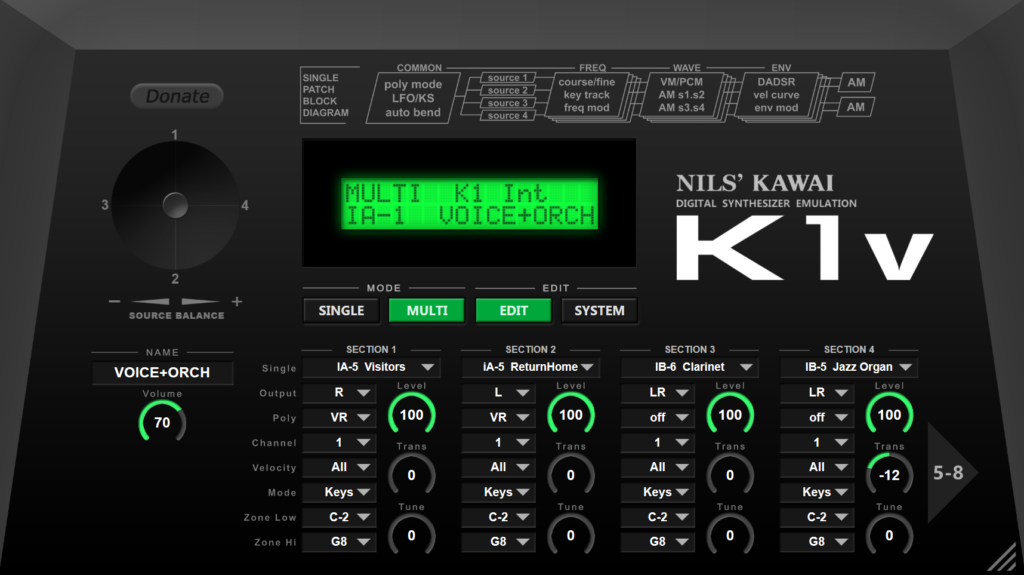 The SYSTEM page is a new page that allows to change global parameters, basically it's a copy of the K1 Midi Settings and supports specifying a Midi receive channel (previous versions always ran in Omni mode) and to disable Program Change processing, Sysex & more.
Global settings are saved as part of the DAW project.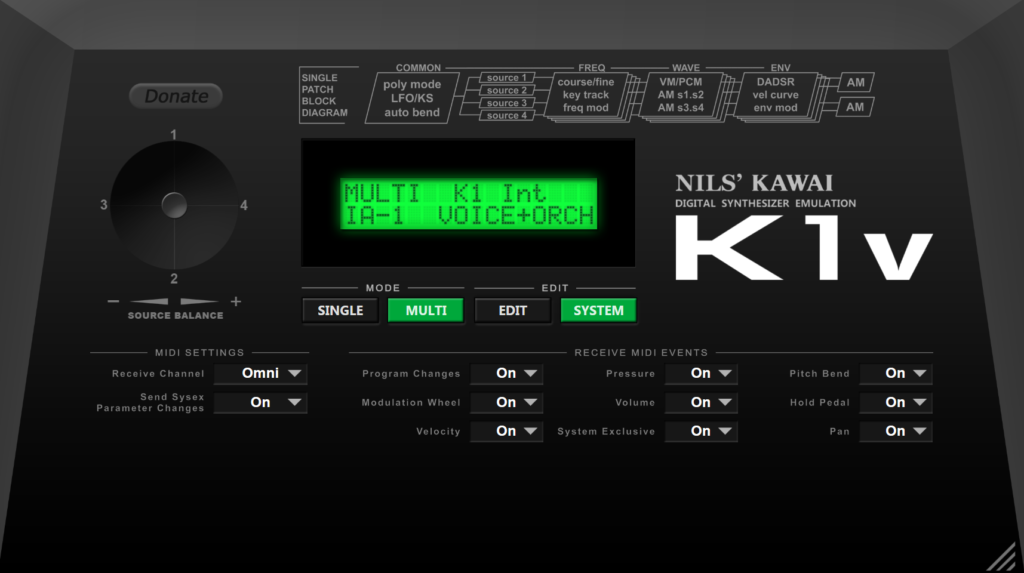 Besides the improvements as pointed out above, some additional things have been added, such as cursor key preset navigation (Hallo Jürgen!) and of course, bugs have been fixed, too. The full change log can be found below.
Download the new version from the K1v product page.
Changes
[Fix] Wrong number of presets (832 instead of 968) were reported to plugin hosts
[Fix] Midi notes could get stuck in some cases
[Fix] Rounding issue in fixed key note number drop down menu that caused note B0 to be displayed although note C1 was selected
[Imp] K1v now supports Multi presets. All factory Multi presets have been added for all factory banks, making up a total of 384 Multis, or 1352 presets in total
[Imp] K1v now has a settings page to allow to specify the Midi receive channel, disable/enable receive & send of SysEx and more
[Imp] Midi receive channel can now also be modified by sending an Omni-Mode-Off control change from a specific Midi channel.
[Imp] Added ability to navigate through presets with cursor keys
[Imp] Code optimizations to reduce overall CPU usage