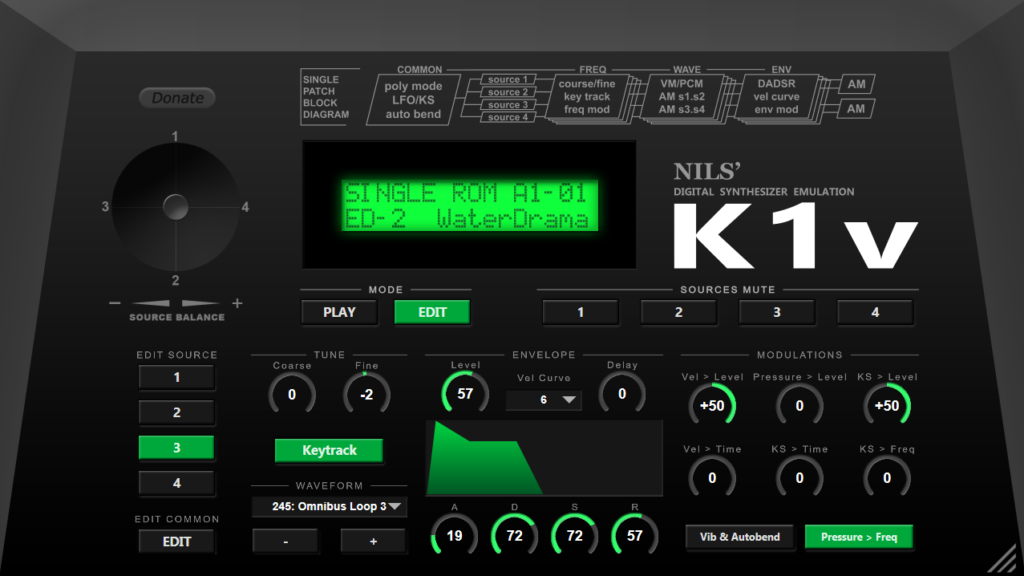 Nils' K1v is a rompler that emulates a famous japanese classic from 1988.
Features:
Very accurate emulation of all parameters
Includes 768 presets with search capability, the original factory bank + all ROM cards
Full editing support
Can import & export SysEx presets & banks from/to the original device
Transmits & receives parameter changes via SysEx to act as an editor for the hardware or to be edited with external editors
Resize-able user interface
Full automation support
All 768 presets can be edited and are stored as part of a project
Available for

Windows as VST2.4 – 32 & 64-bit
Linux VST2.4 – .rpm & .deb – 32 & 64 bit

Mac support is in development!
Furthermore, the plugin features a fully fledged MIDI implementation:
Understands SysEx messages like the original hardware which allows to update & edit presets while running and even sends responses to the following SysEx requests: One block data request, All block data request & Device ID request
Program Changes are supported including Bank Select.
Hold Pedal, Volume, Pan, Velocity, Aftertouch, Modulation Wheel & Pitch Bend
Synthesizer Engine:
8-bit synthesis engine
Four sources per voice

256 waveforms, 204 additive waveforms with 128 harmonics + 52 PCM wave forms
DADSR envelope
8 velocity curves
Coarse & Fine tune, adjustable key tracking, lots of modulation options

AM (Ring Modulation) between Source 1&2 and 3&4
Autobend
5 Key Scaling Curves
One LFO with triangle, square, saw & random shape support
Joystick for real-time control
The download of the plugin is free! But feel free to donate if you find this plugin useful:
Feel free to download here:
Windows VST 2.4 (zip with 32bit & 64 dll combined)
Linux VST 2.4 Debian package (.deb) – 32 bit (i686) – 64 bit (amd64)
Linux VST 2.4 RedHat package (.rpm) – 32 bit (i686) – 64 bit (amd64)
Change Log
v1.10
[Fix] Joystick behaviour was incorrect after opening editor and never resizing it
[Imp] Nils' K1v is now available for Linux as VSTi plugin. Its still an experimental stage but I verified that it works with Carla and Adour on Ubuntu 20.04 amd64. Available are debian & rpm packages for i386 and amd64 architectures The packages install the VSTi to /usr/local/lib/lxvst/
v1.09
[Fix] Omnibus loop waveforms now always start from beginning when a note is pressed
[Fix] Redraw issue caused multiple Source buttons to stay in highlighted state
[Fix] Source parameters were not updated when switching AM mode to/from REV
v1.08
[Accuracy] PCM waveforms cannot play a lower frequency than 25.6Hz and are pitched up one octave when a note that is too low is triggered.
[Accuracy] Fix Single Cycle Waves with notes below C-2 were clamped and played as C-2 although hardware can go down to C-4 if keytrack is off
[Note] The two change above fix some Singles being incorrect when compared to the hardware, for example iA-8 GongOfKngs
v1.07
[IMP] Window size is now preserved by storing it as part of the plugins data chunk
[FIX] Audio pops/clicks when a voice begins, even more present if decay time was greater than zero
v1.06
[FIX] Fix very large UI on hosts like Orion because Orion claims to support resizing but then fails when being asked to resize.
v1.05
[FIX] Fix possible crash when changing patch by program change while UI is closed
[CHG] Shrink default UI size to 1024×576 to give smaller screens a chance to reach the resize handle
v1.04
[Accuracy] LFO behaviour didn't completely match hardware behaviour, especially for higher speed values
[IMP] Window size is remembered when the plugin editor is closed and reopened
[FIX] In Solo mode, audio clicks were audible when playing a note while another one was still playing
[FIX] Audio processing could lead to clicks/pops in some hosts. I personally
didn't experience this so feedback & if possible a recording of the issue would
help. Thanks 😊
v1.03
[IMP] SysEx Parameter Changes are now fully supported

They are sent, which allows the plugin to edit a real hardware in realtime
They are recognized, which allows the plugin to be edited via external/existing editors
[FIX] UI crashed on second opening after using the Source Mix Joystick
[FIX] Reaper specific: Keyboard Shortcuts 1,2,3,4, E and C intercepted entering text to input fields (search box in Play Mode, preset name in Edit Mode)
[FIX] In Solo Mode, releasing a note always stopped all voices if the note being released was not the one being audible
[FIX] Midi control changes Hold Pedal & All Notes Off didn't work
[FIX] UI did not update if the current preset was changed via Midi Program Change
v1.02
[IMP] Added ability to import SysEx from .mid files
[FIX] Do not fail import if a .syx or .mid files contains K1v presets + other sysex data that has no K1v relation
[FIX] SysEx received via Midi always overwrote first 32 singles. It will now correctly overwrite either 1-32 or 32-64, 65-96 (ROM Card 1-32) or 97-128 (ROM Card 33-64) depending on the SysEx dump
v1.01